Information on Annual Maintenance of
QMHI/QMHI-S Certification
A certification under Alabama State Code 580-3-23-06 is valid for twelve (12) months.
At least ninety (90) days prior to the expiration of a qualified mental health interpreter or qualified mental health interpreter – supervisor certification, the Office of Deaf Services will mail a reminder to the interpreter with a request for submission of documentation attesting to completion of certification maintenance requirements. Failure to receive said notification does not remove the requirement that appropriate documentation be submitted to the Office of Deaf Services in a timely manner.
An interpreter can maintain certification by submitting documentation to the Office of Deaf Services of any of the following activities.

Working in clinical settings at least forty (40) hours in the 12 months following issuance of certification or renewal, or
Attending forty (40) clock hours of mental health related training, or
A combination of the above equaling forty (40) contact hours.

An interpreter can maintain supervisory status by submitting documentation to the Office of Deaf Services of any of the following activities.

Maintain QMHI.
Documentation that at least 20 of for the QMHI maintenance hours (listed in #3 above) include work in clinical settings.
Supervision of one Practicum Interpreter or documentation of at least 40 contact hours of training in: Supervision, mentoring, teaching methods, adult education.
Participation in (a majority of) quarterly QMHI-S roundtable conference calls.
Questions About QMHI Maintenance?
Contact Us

Certification Cole
The QMHI Certification cycle runs January 1 to December 31 and you will need to submit documentation of at least 40 hours (as described in item #3 above) by December 31st each year.

QMHI Maintenance Record
Log for keeping track of hours needed to maintain QMHI certification. Download it HERE

CEU Opportunities for QMHI and QMHI-S Holders

A small compendium of possibilities. If you have ideas, submit them HERE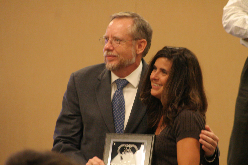 People who have limited English proficiency, including those who are deaf, have historically been limited in their ability to access mental health services. When they do obtain services, they usually require an interpreter. The quality of interpretive services has a substantial and direct bearing on the outcome of services provided and can have life-or-death consequences when the
Interpretation is inaccurate. Qualified Mental Health Interpreters (QMHI) are trained to work effectively in mental health situations. Holders of QMHI certification are the best of the best.
Qualified Mental Health Interpreter Certification
Current QMHIs


Charlene Crump, Montgomery*
Brian McKenny, Montgomery*
Wendy Darling, Montgomery
Frances Smallwood, Huntsville
Kathleen Lamb, North Carolina
Sandy Peplinski, Wisconsin
Katherine Block, Wisconsin*
Stephanie Kerkvliet, Wisconsin
Nicole Kulick, South Carolina*
Sereta Campbell, Tuscaloosa*
Kendra Keller, California*
June Walatkiewicz, Michigan
Melanie Blechl, Wisconsin
Kathleen Lanker, California
Tera Cater Vorpahl, Wisconsin
Julayne Feilbach, New York
Rhiannon Sykes-Chavez, New Mexico
Roger Williams, South Carolina*
Denise D'Antonio, Pennsylvania
Camilla Barrett, Missouri
Angela Scruggs, Tennessee
David Payne, North Carolina
Lori Milcic, Pennsylvania
Bethany Batson, Tennessee
Karena Poupard, North Carolina
Rebecca De Santis, New Mexico
Sarah Biello, Washington, D.C.
Carol Goeldner, Wisconsin
Susan Faltinson, Colorado
Crystal Bean, Arizona
Mistie Owens, Utah

Claire Alexander, Minnesota
Amanda Gilderman, Minnesota
Jolleen Hudson, Washington State
Bridget Sabatke, Minnesota
Adrienne Bodisch, Pennsylvania
Jasmine Lowe, Georgia
Pam Hill, Georgia
Lori Erwin, Georgia
Katherine Anderson, Tuscaloosa
Christina Healy, Oregon
Becky Lukkason, Minnesota
Roxanna Sylvia, Massachusetts
LaShawnda Lowe, Georgia
Leia Sparks, Wisconsin
Jamie Garrison, Wisconsin
Deb Walker, Georgia
Tara Tobin-Rogers, New York*
Earnestine (LaVern) Lowe, Georgia
Paula MacDonald, Minnesota
Margaret Montgomery, Minnesota
Rachel Effinger, Virginia

Rebecca Conrad-Adams, Ohio
Renae Bitner, Northdakota
*Indicates QMHI-Supervisor Status